Matteo Calisi will be speaking Friday Aug 19th


Special Service with Matteo Calisi, Founder of United in Christ
Friday, August 19 at 7:30 pm!
Matteo Calisi, Founder of United in Christ and Comunita di Gesu in Bari, Italy, and close friend of the Chavdas will be speaking at All Nations Church on Friday, August 19th. The mission of United in Christ is to promote the reconciliation of all Christians and Christian Churches who profess Jesus Christ as Lord and Messiah. Matteo's relationship with the Chavda spans more than 30 years, going back to the historic 1977 charismatic gathering in Kansas City, to the Toronto Blessing with John and Carol Arnott, the Azusa Centenniel Celebration in Los Angelos, and most recently, their visit to the Vatican and audience with Pope Francis in June of 2016.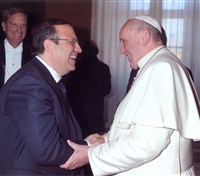 Date: August 19, 2016
Time: 7:30 PM
Location: All Nations Church, 360 Hammond Rd. Fort Mill, SC 29715
If you are unable to travel to All Nations Church, join us Online!
Follow the Event on Facebook.